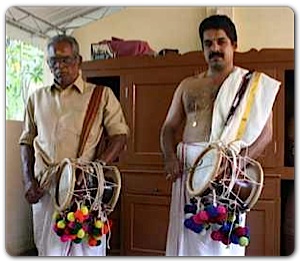 Training :: P. Nandakumar received his initial lessons as an Idakka player from his grandfather, late Sri Kunju Poduval, himself a renown Idakka player, and started playing Idakka at the age of ten. Later his father, Sri Krishnan Kutty Marar, a leading musician and Idakka player, imparted further training both for Idakka playing and in Carnatic (classical South Indian) music.
The Ministry of Human Resource (Government of India) awarded him a scholarship in the field of Rare Arts - Idakka from 1995 to 1997 and underwent intensive training in Idakka with special reference to its musical and rhythm aspects under the famous Idakka exponent, Sri Pallavoor Appu Marar for period of 6 months.
Teaching :: P. Nandakumar has successfully trained several musicians. Watch excerpts from the arangetram (debut) on the Tudi Irinjalakuda YouTube channel: senior disciple Tomoe-Tara Irino (Tokyo).