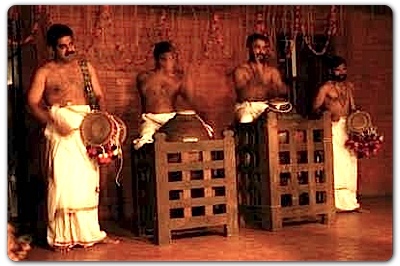 Background :: P. Nanda Kumar belongs to the community called Marar whose members have been entrusted with playing the Idakka in the temple for several centuries.
Being interested in other types of percussion music, he learned Mridangam from Sri G. Chandrashegharan Nair (an artiste with All India Radio Trichur) for 5 years.
He received advanced training under the famous Mridangam Vidwan Sri Palghat T. R. Rajamani, son of the legendary Mridangam maestro Sri Palghat Mani Iyer (1913-81) for another period of 5 years. This enabled him to convert the Mridangam phrases to Idakka music.
Broadcasting :: All India Radio / Doordarshan A grade artist.
Foreign commitments :: Panel artist of Indian Council for Cultural relation (ICCR)
The Idakka in a new publication by Oxford University Press :: The musical potential and historical importance of the Idakka is discussed in the 2009 edition of The Oxford Illustrated Companion to South Indian Classical Music. More information about this reference work >>